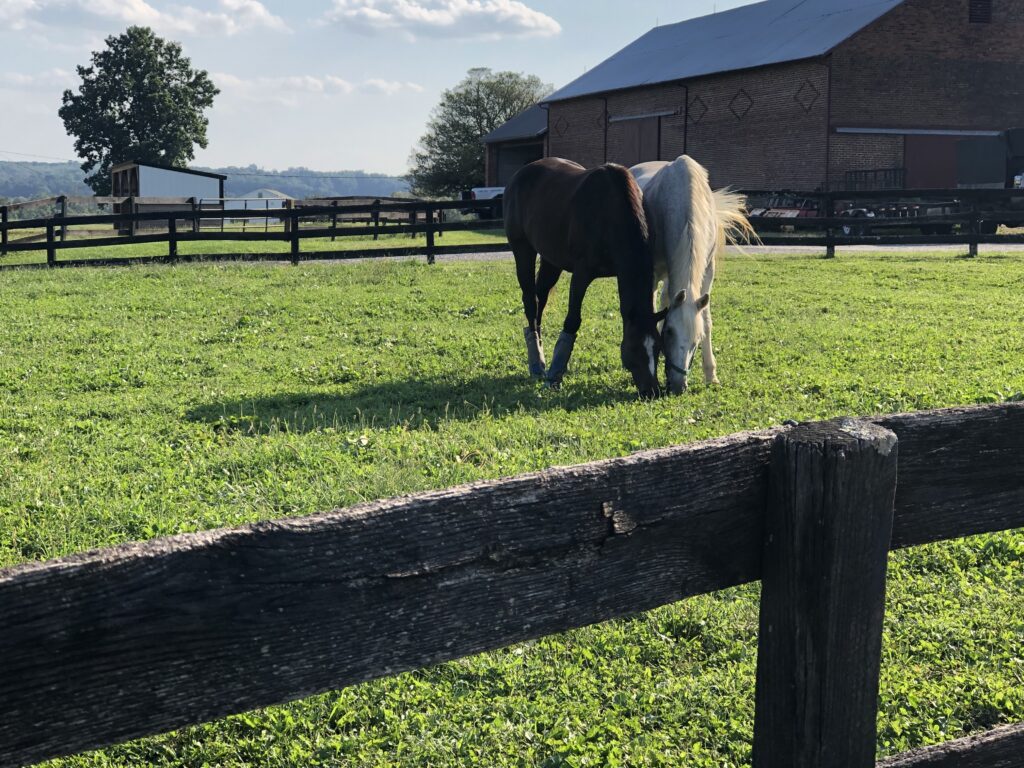 Boarding at Horse & Hive is a personalized experience tailored to the needs of each individual horse and their owners. Offering everything from field care board to 12/12 options, there is something here for everyone. 
Amenities include a lighted grass arena with jumps, Dressage court, round pen and trail obstacles. There is an oversized sand arena with lights and jumps, and a small indoor for inclement weather use. Other amenities include lush pastures, multiple tack rooms, a learning annex, and on-site clinic opportunities.
All disciplines are welcome! Take lessons with one of our highly qualified trainers, or bring in your own insured trainer. 
To learn more about boarding at Horse & Hive, or to schedule a visit, please call 443-606-4639. You can also email us at hhfarm2012@gmail.com. We look forward to hearing from you. 
All boarding spaces are currently full.
We invite you to check back with us at a later date.
Feeding and supplements up to 3 quarts (one full scoop) in field 2x per day
Water trough checked 2x a day
24-hour access to run in shed
Horses checked 2x per day for injury or signs of illness
Tack and Supply Storage
2 round bales must be purchased in addition each winter
Blankets (supplied by owner) applied and removed at discretion of barn staff
Fly masks (supplied by owner) applied and removed at discretion of barn staff
Fly spray applied to horses several times weekly as needed during feeding, upon request
Horses on barn farrier/vet/dentist rotation will be held for a $10 additional fee
Stall Board - Bad Weather
Feeding and supplements up to 3 quarts (one full scoop) in stall 2x per day
Hay and water offered in stall during each feeding
Stall cleaned 1x daily
Water offered in buckets during feeding, and available by trough in field
Access to run in shed when not in stall
Horses checked 2x per day for injury or signs of illness
Tack and Supply Storage
2 round bales must be purchased in addition each winter
Horses brought in during bad weather. Bad weather includes:

Heavy rain
Heavy snow, ice, sleet, or hail
Extreme heat (temps or heat index greater than 95)
Extreme cold (temps or wind chill below 10)

Blankets (supplied by owner) applied and removed at discretion of barn staff
Fly masks (supplied by owner) applied and removed at discretion of barn staff
Fly spray applied to horses several times weekly as needed during feeding, upon request
Horses on barn farrier/vet/dentist rotation will be held for a $10 additional fee
Stall Board - Special Care
All items listed for regular stall board
Approximately 12 hours in stall/12 hours out daily, depending on feed schedule
Stall cleaned as needed up to 2x a day in extreme weather conditions
Blankets (supplied by owner) applied and removed at discretion of barn staff
Fly masks (supplied by owner) applied and removed at discretion of barn staff
Fly spray applied to horses several times weekly as needed during feeding, upon request
Horses on barn farrier/vet/dentist rotation will be held for a $10 additional fee
Upload Signed Boarder Agreement