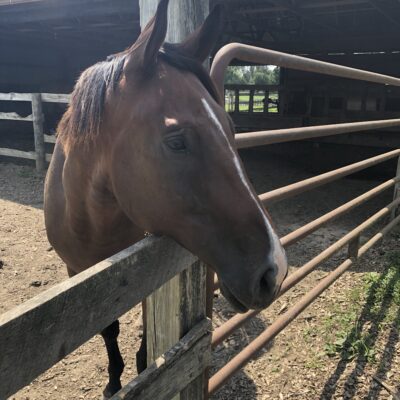 Our Companion Program lessons are designed for those individuals who are interested in learning more about horses from the ground, taking advantage of their calming and peaceful natures by simply being in their presence, or becoming more comfortable and familiar with handling them before taking horseback riding lessons.  
These lessons do not include saddle time, meaning we will not be doing any horseback riding during them. They are ground based lessons only. During the hour long lesson we can cover everything from bringing horses in and out of the field, grooming, healthcare, horse behavior and communication, proper and safe horse handling, and anything else you might be curious about or want to learn that is horse related! No previous horse experience is necessary to join us!
While these are not therapy lessons, there is no denying the therapeautic affect being in the presence of horses can have on us. This program is ideal for anyone that might want to gain more confidence working with horses before signing up for under saddle lessons, people that might be dealing with previous horse related traumas that want to slowly get back into the saddle, those with disabilities that might make horseback riding difficult, or anyone that just wants to come out the farm and enjoy the peaceful nature of the horses and the farm.
Each participant will enjoy hands on experience learning about horses from the ground with safety as the #1 priority with patient, experienced and certified instructors. 
We can't wait to welcome you to the farm!
COST: $45 per participant/per hour
Approved attire:
long pants, boots or other hard soled shoes with a heel – no shorts, open toed shoes or tennis shoes allowed.